3D PRINTER – ADDITIVE MANUFACTURING
SPEED – COSTS – REDUCED RISKS

The 3D printers are revolutionizing the world of industrial manufacturing.
We have decided to introduce a large format Markforged X7 printer with Continuous Fiber Reinforced printing technology which offers the possibility to create, in few hours, parts as robust as those made of steel – thanks to the possibility of reinforcing the parts with a long fiber (kevlar, carbon, glass, hsht glass) and to the carbon microfilaments, present in the onyx, which let to obtain the mechanical characteristics of the component decidedly better than PLA and ABS – with the advantage of obtaining a lighter and cheaper product, in less time than the normal manufacturing process allows it.
Thanks to the excellent quality of the surface and precise geometric manufacturing tolerances the pieces obtained are perfectly suitable for equipment, prototypes and functional parts.
According to various needs of our Customers we manufacture different kinds of functional parts suitable for any exigence:
Replacement of plastic parts
Containers
Sensor supports
Aesthetic components
Functional prototypes
Jigs
Control gauges
BASIC MATERIALS

Onyx
Components printed with Onyx are strong, resistant and highly precise.
1.4 times stronger and stiffer than ABS, the Onyx can be reinforced with any kind of continuous fiber. Onyx offers an excellent surface quality, chemical resistance and heat resistance up to 145°C.
Onyx FR
Onyx FR is a fireproof variant of the Onyx designed for use in such applications where the parts must not spread the flame. The material has obtained a UL 94 Blue Card, and it is considered V-0 (self-extinguishing) at thicknesses greater than or equal to 3 mm. It can be reinforced with any continuous fiber and is compatible with industrial 3D printers.
Onyx ESD
Onyx ESD, antistatic material protected against electrostatic discharges, is more resistant and more rigid than the Onyx, with a superior surface finish, which makes it a perfect material for advanced applications.
REINFORCEMENT WITH FIBERS


Our Markforged printer allows to add a fiber reinforcement to printed components.
It allows to deposit continuous fibers with long filament inside the thermoplastic matrix.
It is possible to manage the layers to be reinforced, the quantity of fiber, the position and the type of reinforcing fiber.
Fiberglass
Strength of fibers reinforcement
Fiberglass is an entry-level continuous fiber, offering high strength at an affordable price. The reinforcement with Fiberglass is 2.5 times stronger and 8 times stiffer than the Onyx, and allows to obtain strong and robust equipment.
Carbon fiber
The Strength of aluminum with half the weight.
Among the reinforcing fibers, the carbon fiber has the best strength / weight ratio.
It is 6 times stronger and 18 times stiffer than the Onyx, the parts reinforced with carbon fiber are used to replace the aluminum components.
Kevlar
Light, durable and strong
An exceptional durability makes Kevlar excellent for parts subjected to repeated and sudden loads. As rigid as fiberglass but much more ductile, it is perfect to be used for the end components of equipment
HSHT Fiberglass
High temperature resistance
HSHT (High Strength High Temperature) glass fiber has the strength of aluminum and a very high heat tolerance.
Being 5 times stronger and 7 times stiffer than the Onyx offers it's best for parts under load used at high temperatures.
EXAMPLE OF OUR STUDIES


LIFTING EQUIPMENT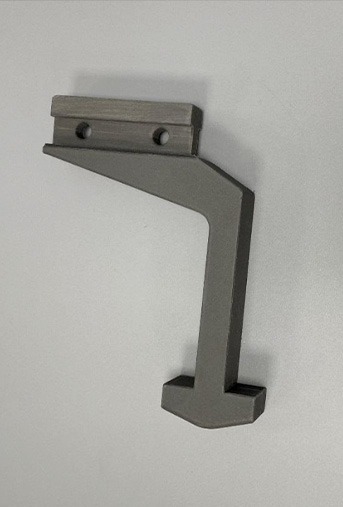 The fixture is made of three jaws installed on a special lifting accessory by means of two bolts.
In this case they will lift a load of 40 kg. Before being delivered to the customer, the jaws are subjected to a load test which consists in charging of 80 kg distributed on the three jaws.
Previously the component was made of 39NiCrMo3 (38NDC4) steel and its rigid PCV protections were screwed in the area in contact with the lifted element.
We managed to replace the metal and to achieve the same result using the piece made of onyx combined with carbon fiber.